JOIN THE CALVARY TEMPLE TEAM
Calvary Temple Church is a place to belong. If you are new to CTC we would love for you to join the family officially and help us carry out our purpose of reaching the world for Christ. Stop by our information table in the lobby and get a membership request form or simply scan the QR code below and fill out the request form digitally. #youbelonghere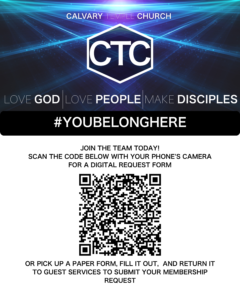 INDOOR FALL FESTIVAL
Sunday, October 29 we will have our annual Indoor Fall Festival for the Calhoun County Community. Everyone is invited to come and enjoy a free night of fun, food and games. The event will be from 6pm to 8pm that evening.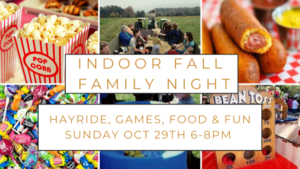 VETERANS DAY SALUTE
We want to honor all of our church family that have served or are serving in our nations military. If you are a member of the CTC family and have served in any branch of the military we invite you to visit the information table in the back of the main sanctuary. Please provide your name, branch of service served in, and years of service. We also ask that you send us a picture of yourself, either during your time in service or a current day photo. Let us honor those who have sacrifice so much in order for us to have the freedoms we so cherish in our lives.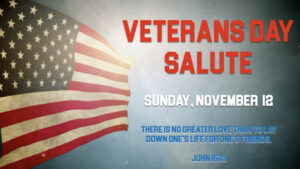 MINISTRY OPPORTUNITIES
One of our purposes here at CTC is to help you DISCOVER PURPOSE. God created each one of us on purpose for a purpose. We have two ministry opportunities available for those that are seeking to find their purpose.
1. Join the MEDIA/TECH team and play an important part in every service in every service where God is changing lives and breaking chains. We have spots available to help run sound, lighting, our live feed that reaches across the world and in the media center.
2. We are searching for people with a heart for leading others in worship. Whether you play an instrument or are a vocalist, you have a place in worship with us.
If interested in either of these areas, please see Pastor Aaron for details.